10% Off (Up To $200)
Must mention the coupon when scheduling, this coupon can not be combined with another coupon
Cisneros Brothers Plumbing understands how important it is to maintain septic systems in Riverside and San Bernardino County.
That is why we deliver the best services at affordable prices.
We have over two decades of experience. This helps our team is able to provide fast as well as efficient solutions adhering to strict environmental laws and regulations.
Since we perform septic tank pumping for residential and commercial properties.
Residential Septic Tank Pumping – Riverside and San Bernardino County
Homeowners on a septic tank system understand that regular cleaning is integral to maintaining drains and the tank itself. Moreover, depending on usage, the size of the tank, and age, when to schedule cleaning will vary. Common recommendations state every 3-5 years, but scheduling for an annual pumping is the best way to ensure clear drains year-round.
Signs You Need A Septic Tank Pumping
Most septic systems can go from 3-5 years before needing service. However, homeowners should be aware of common signs of a larger problem or a full tank. Be on a lookout for the following:
Toilet Clogs – Toilets may clog due to the toilet itself, or something in the line that should not be there. However, if the toilet is frequently backed up, it may indicate the tank needs to be pumped. 
Foul Odors – One of the first signs of a septic tank in need of pumping service is the smell. Septic tanks are designed to keep foul sewer smells from entering the home. That is why sewer smells are a definite sign of an unhealthy septic tank. If you are experiencing them too, never delay seeking professional services.
Overflows – Any signs of water near the tank indicate a sign of something going wrong. If noticeable pools of water begin forming, contact Cisneros Brothers Plumbing to investigate the cause and pump the system. We will be there to help in no time.
In addition to septic tank pumping, we also have a team of specialists. That is why, we can investigate leaks, make repairs, and replace septic tank systems, whenever you want.
Commercial Septic Tank Pumping – Riverside & San Bernardino County
If your commercial property or business relies on a septic system, it is important to have regularly scheduled maintenance as well as pumping.
Because with proper maintenance, business owners can avoid emergency backups and costly repairs. So never delay getting your septic tank checked by experts.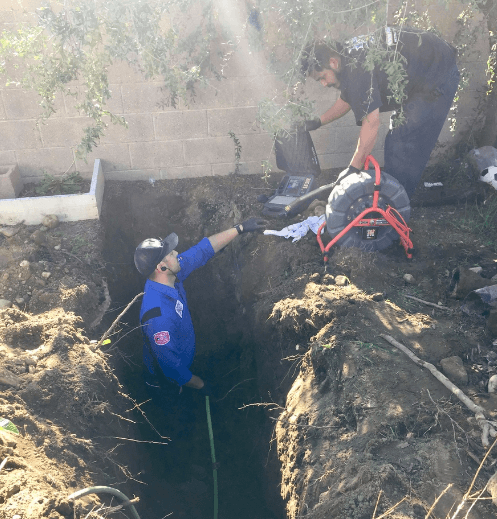 Neglecting to pump out the septic tank on a customized schedule can lead to hard scale buildup, leaks, overflowing drains. Therefore, they eventually require a repair or replacement of the septic system.
Our septic system specialists will inspect your septic system to determine the right pumping schedule to keep you free from emergencies.
The pumping frequency of a commercial septic system is dependent on several factors, including:
Type of business

Size of septic tank

Wastewater volume

Amount of organic material in the wastewater
In addition to the septic pump out system, our team will identify any potential problems and make repair recommendations before they lead to costly damage. Our septic system professionals have full excavation capabilities to handle repairs and replacements of every size ensuring safety and environmentally sound practices.
For septic tank pumping in Riverside and San Bernardino County, trust the team at Cisneros Brothers Plumbing. We have more than two decades of experience and trained and skilled plumbers ready to answer your call 24/7. To learn more about how Cisneros Brothers Plumbing can help you, call us today.