When water bills run unnaturally high, it's usually a sign of a hidden leak in your plumbing. Our team of experienced plumbers efficiently inspects your pipes and detects your hidden leak to help save you money. We are experts in water leak detection services in Hesperia, CA.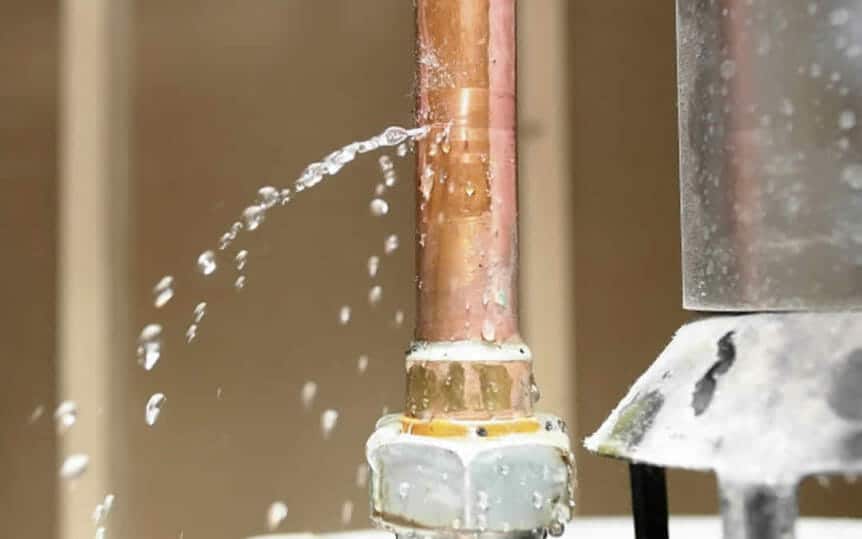 Some common signs of water leaks in the home are:
High water bills

Signs of moisture on floors, ceilings, and walls

Warm spots on floors

Water pooling in yards

Active signs of water around fixtures, toilets, and under sinks

Water leaks can result in spikes in water bills, water damage to the home, and mold growth.
A slow leak can cost homeowners time and money for repairs if left unattended.
If you suspect a water leak, conduct a preliminary test, and contact a water leak detection specialist to diagnose quickly, find, and repair the leak.
Turn off all faucets in your home and listen carefully; you may hear water running, signifying an in-home water leak.

Do not use water for a span of two hours. Check your water meter from the beginning of time to the end.

Switch off water sources at home, and see if your leak detector (on your water meter) is registering a leak.

Turn off the water main and watch the water meter. If it moves, you likely have an outdoor leak.
Cisneros Brothers Plumbing, Septic, Restoration & Flood Services uses the latest plumbing technology to pinpoint the precise location of the water leak. We will provide a detailed estimate for steps to repair the leak and help customers prevent future leaks.
Leaking fixtures are usually easy to spot. Homeowners can catch leaks early by routinely monitoring faucets, showerheads, and water shutoff supply valves under sinks and toilets. Check for water and moisture signs near fixtures and ceilings, underneath bathrooms, or in second-floor kitchens. Slow leaks can lead to major water damage if left unattended.
Once on-site, the Cisneros Brothers Plumbing, Septic, Restoration & Flood Services team will determine the best course of action to diagnose and repair the water leak. 
Toilets can leak inside the tank, from the tank to the bowl, the toilet's base, and the toilet water supply valve. Running toilets are the biggest indicator of a toilet leak and should be checked as soon as it becomes noticeable.  
However, toilet leaks can go unnoticed for long periods of time while steadily increasing water bills. If there are no obvious signs of a leak but you have a high-water bill, consider calling a specialist to check for a slow toilet leak.  
If the toilet is leaking from the base, it indicates the main sewer line clog and will need a drain specialist to diagnose the proper method for clearing the line.  
Lastly, check the water supply valve and water supply line leading to the toilet. Our expert plumbers recommend changing these valves anytime they are disconnected or every 5 to 7 years. They can burst due to age and water pressure fluctuations that could lead to flooding.
Excessive water bills, sudden spikes in water use, warm spots on flooring, mildew or mold growth in baseboards or walls, and sounds of running water when no fixture is in use are all signs of a possible slab leak.  
A slab leak is a water leak in the pipes under the foundation of the home and can occur because of the age of pipes, water pressure fluctuations, or natural shifting in the earth.  
Slab leak detection is highly specialized and should be performed by an experienced professional. We uses state-of-the-art electronic leak location equipment, and our team is trained in pinpointing the exact location of the leak.  
It is important to be precise, as misdiagnosis of the location could affect the repair options and change the scope of work and cost.
Interior & Exterior Water Leaks
Leaking pipes in the wall or ceilings cannot be located by electronic equipment and require expert knowledge in troubleshooting and expertise. Our team can visually inspect the signs of the leak, check the water meter, and determine quickly where the leak is coming from and how best to repair the line.  
Exterior leaks are generally easier to spot by pooling water on the ground and drips outside of hose faucets. Exterior leaks should be addressed as soon as possible to avoid foundation damage or expensive repairs.  
Cisneros Brothers Plumbing, Septic, Restoration & Flood Services offer convenient scheduling, experienced specialists, and the most comprehensive water leak detection services in Hesperia, CA. We offer a 100% customer satisfaction guarantee and can help solve even the hardest to find leaks. Call Us Today!
4 Different Reasons You Should Hire Us