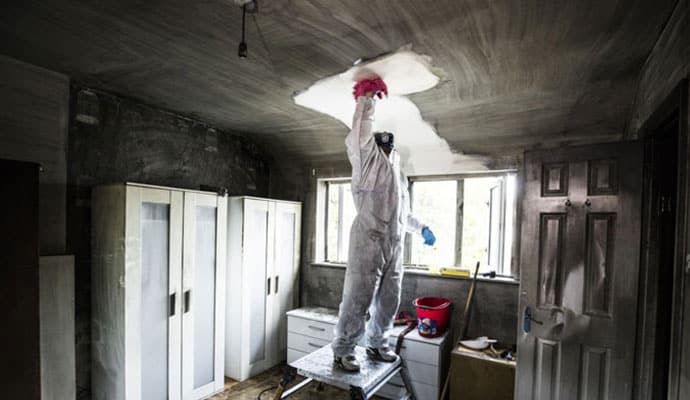 Fire damage is one of the most stressful events that can happen to you and your family. If you are faced with a fire, it's important that you have a company that knows how to handle the situation. 
With Cisneros Brothers Plumbing, Septic, Restoration & Flood Services, you can rest assured that your home or business will be restored to its pre-fire condition. 
We provide professional fire damage restoration services in Hesperia, CA, and its surrounding areas. Our team of experienced professionals will work with you to address virtually all kinds of fire damage, from small residential fires to large commercial buildings. We can help make sure that your property is safe and secure so that you can get back to business as usual as soon as possible!
Let us work with you today! Call (844) 231-3717 today to schedule an appointment with one of our friendly staff members.
Best Fire Damage Restoration Services in Hesperia
We at Cisneros Brothers Plumbing, Septic, Restoration & Flood Services, provide a wide range of services to help you get your home or business back to normal as quickly as possible. 
Here are some of the best fire damage restoration services we provide in Hesperia, CA, and surrounding areas:
Residential Fire Damage Restoration Services
Residential fire damage can cause many problems. From the smoke, water, and fire damage to power outages, you need a professional to help you clean up the mess and get your home back to pre-loss condition ASAP. We will work our way to restore the structure and contents of your property. Our team of professionals is standing by to help you with all your fire restoration needs, including emergency repairs and cleanup.
Commercial Fire Damage Restoration Services
We offer commercial fire damage restoration services for your business, office, or warehouse in order to restore it back to its original condition as soon as possible. We have a team of professionals who will come to your location and assess your property, provide an estimate based on the extent of damage and the timeline required, then carry out our work quickly and efficiently.
24-Hour Emergency Fire Damage Restoration Service
We want to make sure that your business is running smoothly and efficiently every day of the year! That's why we offer a 24-hour emergency fire damage restoration service in Hesperia, CA, and its surrounding areas. 
When you experience a fire at work, there is no time for hesitation. You need immediate assistance from our team so that you can get back on track as soon as possible. Our team will arrive on-site after receiving your call and assess the situation right away before determining whether or not it is possible to restore your property back to its original condition.
We are a family business that has been serving Hesperia, CA and its surrounding areas for over 20 years. We pride ourselves on our customer service and commitment to quality work. Our staff is always available to answer any questions you may have regarding your project. We will give you an estimate before starting any work so that you know exactly what you are paying for.
Our services vary from simple plumbing to major reconstruction projects including fire damage restoration, water damage restoration, mold remediation, and more!
If you need help with fire damage restoration in Hesperia CA, and the surrounding areas, call Cisneros Brothers Plumbing today!
4 Different Reasons You Should Hire Us