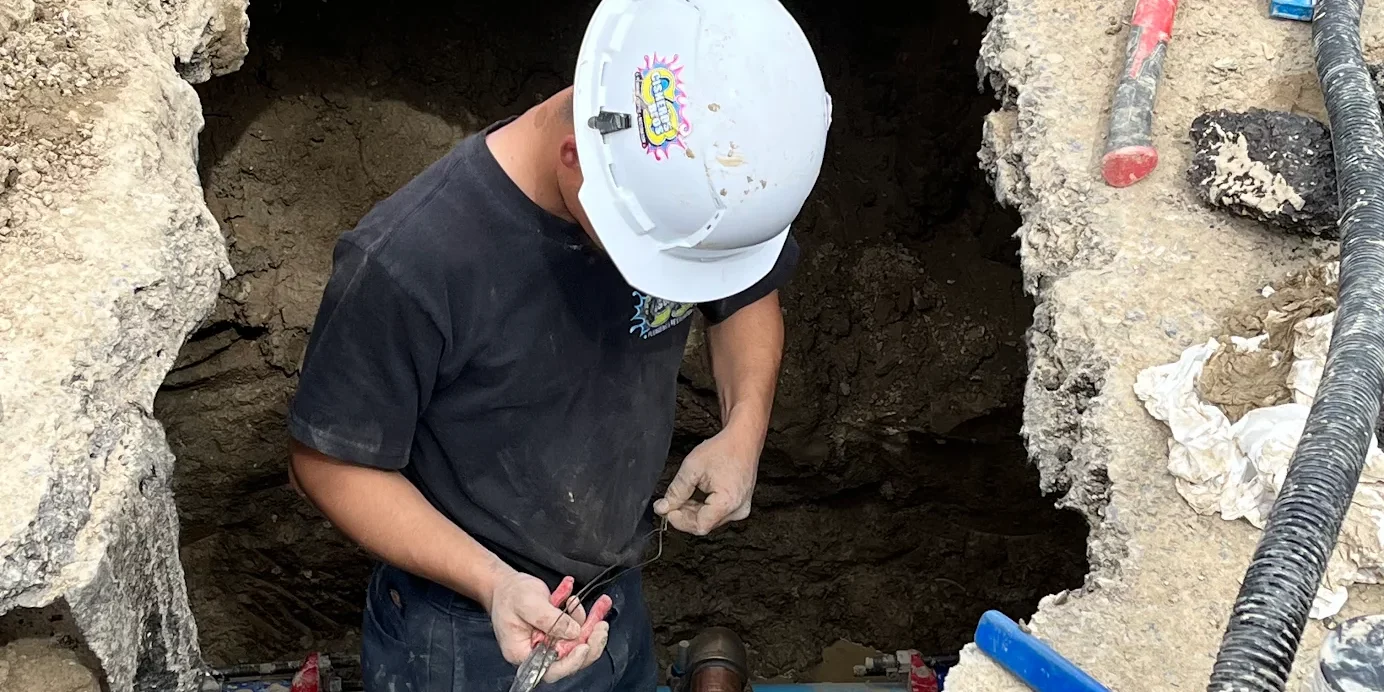 Cisneros Brothers Plumbing, Septic, Restoration & Flood Services has been expertly performing sewer line repair and replacement in Hesperia, CA for more than two decades.
We have a team of drain specialists able to quickly diagnose sewer line problems such as root intrusion, sewer line breaks, missing sections, deterioration, and collapse. We also use high-quality professional equipment to make a permanent repairs.
Main sewer lines can be either underground or in a crawl space if the home is on a raised foundation. 
Cast iron and clay sewer lines are the most susceptible to problems. While both materials are incredibly durable and have benefits, they will deteriorate over time. The natural shifting of the earth can also cause breaks, holes, or cracks. Clay lines can be problematic as they are often present in five-foot sections. A connecting hub seals the line but can wear over time allowing roots to seep in. 
Roots naturally grow towards the rich nutrients in sewer lines. They can find their way into the pipe through small holes, worn seals, and cracks. Once they make their way into the line, they will quickly take over, causing damage. 
Frequent use drains can also have clogs due to abuse of the line, grease or oil, and poor maintenance. Hard scale, sludge, and other organic materials become stuck to the pipe's interior, slowly closing off the inside until there is a backup. 
We repair a clogged main sewer line by various methods like snaking, hydro-jetting, and pipelining. 
Snaking is usually the first step in diagnosing and repairing a damaged sewer line. It can solve minor clogs and even cut back minor root intrusion. 
However, if our drain specialists reach a hard blockage, pull back roots, or encounter a line that will not clear, we will recommend a sewer camera inspection. This is to view the line to diagnose the cause and properly proceed with the best solution.
Hydro jetting is a high-power stream of water that can remove hard-scale buildup and heavy roots in the line and dissolve sludge restoring the normal flow for a sewer line that is intact.
If the sewer line has cracks, holes, or missing sections, it may be able to undergo pipelining; a way to rehabilitate the old pipe. Pipelining uses epoxy resin to create a new pipe inside the broken line.
Sometimes aggressive root intrusion breaks down a sewer line. The pipe may need replacement if there are large sections missing or irreparable holes.
The traditional method of sewer line replacement in Hesperia, CA is by excavating the broken line, removing it, and replacing it with brand new ABS sewer pipe. This is easily the most cost-effective option for small breaks with easy access.
If the broken line is under concrete, the entire line might suffer damage. But digging may not be an option if you want to save on expensive landscaping. Pipe bursting solves this dilemma.
Pipe bursting allows our crew to break the old line if damaged and replace it with a new High-Density Polyethylene pipe (HDPE). It requires only small access points and completes most replacements within one or two days. 
Solutions such as pipelining, and pipe bursting are great cost-effective ways to solve major sewer line problems. But only when repaired by experts. They are also quicker repair options.
Customers can count on our 100 % customer satisfaction guarantee and the team at Cisneros Brothers Plumbing, Septic, Restoration & Flood Services.
Call us today to learn how we can offer you the best septic system services in Hesperia, CA.
4 Different Reasons You Should Hire Us