10% Off (Up To $200)
Must mention the coupon when scheduling, this coupon can not be combined with another coupon
At Cisneros Brothers, we offer expert residential plumbing in Riverside and San Bernardino County with 100 percent customer satisfaction.
Available for emergency services 24/7, we have trained and skilled plumbers who can troubleshoot even the trickiest plumbing or drain problem including services in:
Services:
Water Leak Detection & Repair – Plumbing leaks occur due to general wear and tear. But can cost home and business owners untold frustration and money in damage. The sign of water leaks is moisture, high water utility bills, running toilets, or warm spots on the floor. So, call the experts at Cisneros Brothers Plumbing. Our team uses state-of-the-art technology. Likewise, we have the training and skills necessary to repair or replace your water lines.
Tankless Water Heaters – Imagine endless hot water, regaining space in your garage, and an energy-efficient solution for your home/business. Achieve all this and more with tankless water heaters. With a team of tankless water heater experts to provide a free in-home estimate. It'll do whether your water heater is old, leaking or you are looking for an upgrade to your home/business.
Hydro jetting – Hydro jetting is a solution for kitchen and sewer drain lines clogged with roots, sludge, grease, hard scale, dirt, and debris. With high-pressure water streams, hydro jetting can remove the heaviest backup in drain lines.
Sewer Camera Inspections – It is the first step in diagnosing root intrusion, broken lines, deterioration, and holes in main sewer pipes. When snaking does not clear a line, it is a good idea to perform an expert sewer camera inspection to troubleshoot the problem. Our experienced specialists will find a permanent solution to restore proper drain flow.
Our team recommends a sewer camera inspection for new home buyers before making an offer. Understanding the condition of the line before purchasing a home can help save a surprise investment in future repair costs.
If a sewer camera confirms a break, deterioration, hole, or roots in the sewer line, the next step is finding an ideal and cost-effective solution.
Cisneros Brothers Plumbing is expert in all sewer line repair and replacements. We use pipe bursting and pipelining when excavation of landscaping or concrete is not the best option. If digging up and replacing the line makes sense, we have experts who can help.
Have you wondered about the quality of your home's water? Water filtration will deliver fresh, clean, pure-tasting, and odor-free water. It is from your kitchen sink for cooking and drinking, or from every tap. This is happening with a whole home carbon filtration system.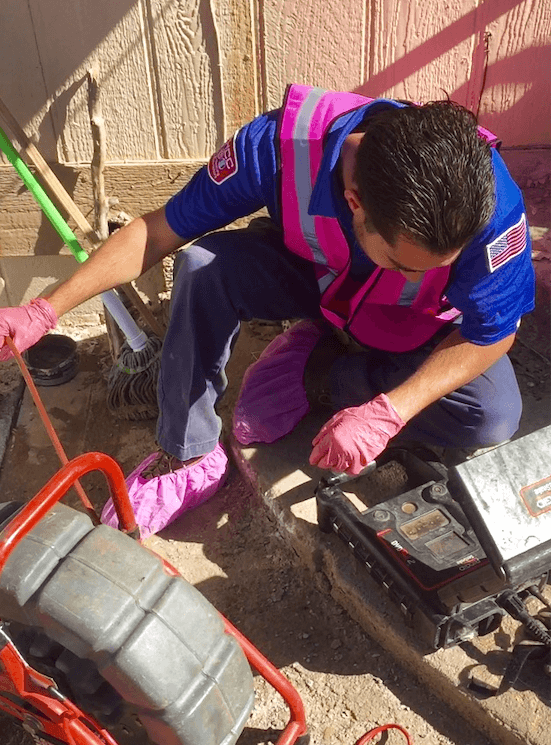 Save money on bottled water, reduce your carbon footprint, and have high-quality water for your family.
We offer free in-home estimates and 100 percent customer satisfaction
— we are not done with the job until you are happy.
Having more than two decades of experience and trained and skilled plumbers ready to answer your call 24/7. Finally, to learn more about how Cisneros Brothers Plumbing can help you, call us today.
 This section is designed to help answer some of our most frequently asked questions. Still, have a question? Always feel free to give us a call and we'd be happy to get you an answer.
1. Check the Drain Outlet Height
2. Lower the Drain, If Necessary
3. Install the Garbage Disposal and Strainer
4. Install the Tailpiece and Continuous Waste Pipe
5. Connect the Drain Trap
6. Check for Leaks
1.Turn the water off
2. Locate suitable hot and cold water supply pipes from which to draw the water for the shower.
3. Assemble the pipes and fittings necessary to bring the water to the wall behind the shower.
4. Install blocking in the wall framing to support the shower valve.
5. Prepare the valve as needed so you can solder pipes to it. If it has threaded female ports, prepare three 1/2-inch male sweat adapters by soldering a 3-inch length of pipe to each one.
6. Extend the rough-in pipes to the valve by fitting lengths of 1/2-inch pipe with the proper fittings. 
7. Install an elbow for the shower head by screwing it to a crosspiece or blocking attached to the framing at the proper height.
1. Turn off the water
2. Remove the old trim
3. Remove the old value
4. Choose a new value
Supplanting little areas of channeling will cost somewhere in the range of $352 and $1,835 with a normal of $1,076. Repiping a whole home or putting in new pipes will run somewhere in the range of $1,500 to $15,000 or more.
Remove the Old Vanity and Sink
1.    Turn off the water supply.
2.    Loosen the slip nut at the top of the P-trap.
3.    Disconnect the water supply lines.
4.    Cut the sealant along with the backsplash with a utility knife.
5.    Remove the sink top from the vanity base.
6.    To remove the vanity, take out the screws at the back of the base and pull the vanity out.
Install the New Vanity
The average price for plumbing can range from $45 to $200 per hour. At Cisneros Brothers, we understand every job is unique and we look to give you the best service possible with a solution that will fits your budget.